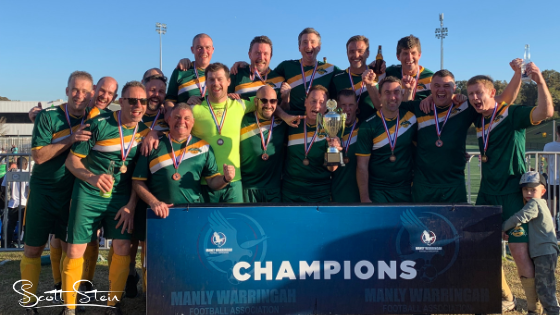 My over 35 soccer team played in the Grand Final. We were playing a team that had won almost every game and we had previously lost to them – twice. With most of us playing on this team for the past 5-8 years we all knew that we had the ability to lift our performance and win. The week before the match the number of messages on WhatsApp skyrocketed. There were plenty of excited comments, strategy recommendations, and a few jokes. Even before we stepped onto the soccer field I could feel the support from the team.
It made me think of a recent conversation I had with a Leader that was having issues with their staff at work. "They just don't work together as a team, they seem to do their own thing" was his comment. This is a common challenge that many organisations make. A Leader labels their department a "team" but does not do anything to create a positive team culture.
When I asked what activities the Leader was doing to encourage a sense of support and camaraderie, he responded that they did not have time to do anything because their workloads were too busy. And this is the problem.
There are 8 key characteristics to every high performing team (my Masters Thesis was on why most teams fail expanding on Larson & LaFasto's Team Excellence Model). To create a successful team, a Leader needs to create shared experiences that enable the following to occur:
Clear Elevating Goal: One of the most important characteristics is a clear, elevating goal that 1) challenges the individuals and the team and 2) has a sense of urgency due to the performance objective to be accomplished.
Results Driven Structure: Clear channels of communication, monitoring and providing feedback to individual performance, fact-based judgments and clear roles and accountability for actions comprise a results-driven structure.
Competent Team Members: The best-equipped people to accomplish a task are seen as being competent. These team members have the technical skills to achieve the desired goals as well as the ability to work effectively with others in their interpersonal interactions.
Unified Commitment: 'Team Spirit' is often the sense of enthusiasm or pride that is felt by team members that are committed to achieving a common goal. This includes complete involvement and a balance between individual differences and group unity.
Collaborative Climate: Creating a climate that inspires productivity and commitment to agreed-upon goals is necessary for an effective team to exist. This 'trusting' environment is described as having: 1) honesty, 2) openness, 3) consistency 4) respect.
Standards of Excellence: A standard consists of expectations to achieve a required level of performance. Standards represent the minimum level of performance needed for a team to accomplish a goal. This also includes the continuous improvement principle of adapting and change standards over time.
External Support & Recognition: This exists primarily if the team is given the resources needed to achieve their goal. Although it is not necessarily the determining factor of being successful, research has shown the lack of external support and recognition was a common reason why teams failed. This also acknowledges the need for the reward and incentive structure to be viewed as appropriate and fair by the team members.
Principled Leadership: It is readily understood that effective teams have effective leaders. For this to happen within teams, the following 3 things occur: 1) the team members know what to expect from the team, 2) it is understood what the team leader should expect from team members and 3) leadership principles that establish a supportive decision-making process that encourages team members to contribute.
When a leader is aware of these 8 key team characteristics they can build a true team culture that creates incredible results.
And for those of you that wanted to know…..we ran our hearts out at the Soccer Grand Final and worked together, ending with a win of 1-0. Yes, I am a Grand Final Champion on a great TEAM!