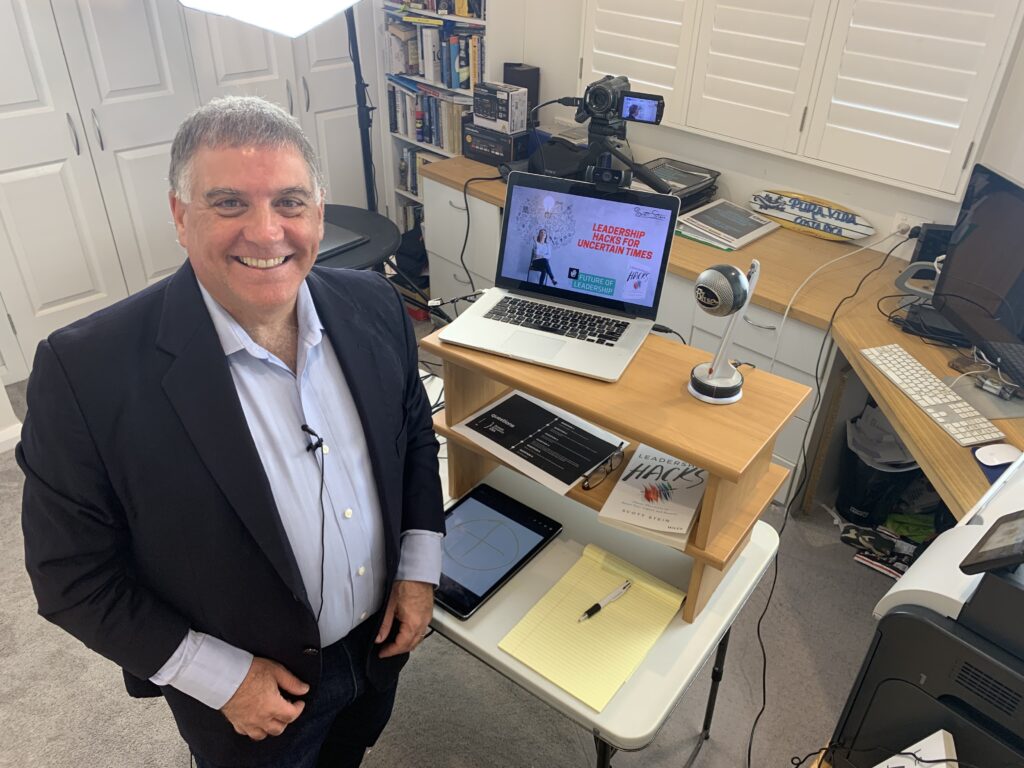 Online & Virtual Sessions
Scott has delivered online virtual sessions for almost 10 years to clients across Asia Pacific and the US.  He remembers the early days with limited broadband and bandwidth to the ability to now deliver live streaming and having groups numbering in the hundreds also participating.  Scott has used numerous online platforms including: WebEx, Adobe Connect, Remo, Zoom, MS Teams, and numerous others.  He has successfully delivered hundreds of online sessions and is also certified with eSpeakers as a Virtual Presenter.
Online Delivery Must be More than a laptop camera!
With the COVID pandemic many training providers have shifted to delivering training courses online.  The challenge that we have found is that many of them have not invested in the professional equipment required to ensure that the training delivery is world class (many are in their kitchen on their laptop).
As we have delivered hundreds of online training courses we have an office studio that enables us to deliver a high quality interactive training session across Australia and the world (we have successfully delivered from our Sydney studio office to participants in multiple locations across NZ & the US).
If you're interested in please feel free to reach out simply by sending us an email.
Our Sydney Office Studio Set up includes:
Professional High Definition Cannon EOS 5D Mark IV Digital Camera:

This delivers high quality and clear video.  We also have a second camera.

Professional Lighting 2 Head Powerful 5 Lamp Video Light & Green Screen Kit:

We use 2 x 5 lamp light kit and we also have a green screen kit.

ATEM Mini Pro Switcher:

This enables us to seamlessly switch the view that the participants see between the presenter, the powerpoint presentation, and a ipad/whiteboard.  This also allows for picture in a picture capacity.

Professional Sennheiser Radio Microphone Kit:

We plug the microphone directly into the ATEM mini pro to ensure that the sound of our presenter is clear and of high quality.

Internet Hardline and Mobile Back up:  

We have NBN internet hard line into our office and we also have a mobile back up unit if the main line drops out.
Certified Virtual Presenter with E-Speakers: Scott has completed the certification process and is a current Certified Virtual Presenter with E-Speakers.